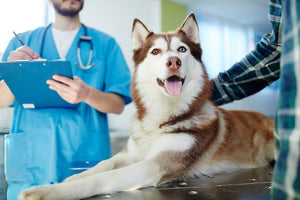 24 Hour Vet Clinics in Singapore
We don't want to feel helpless if something unexpected happens to our pets late at night. Instead of scrambling to find an open vet clinic, here's a list of 24-hour vets in Singapore you can trust. 
Advanced Vetcare Veterinary Centre:
Dr. Nicholas Woo launched Advanced Vetcare Veterinary Centre in 2017 with the goal of providing all-rounded and holistic care for all dogs. The team now consists of six veterinarians.
Address: 18 Jln Pari Burong Singapore 488684
Contact: +65 6636 1788
Email: enquiries@advancedvetcare.sg
Website: https://www.advancedvetcare.sg/
Services:
24-hour Emergency and Critical Care
Computed Tomography – CT Scanner
PennHIP (Hip Dysplasia Screening)
Diagnostics
Oncology / Cancer
Internal Medicine
Dentistry
Behaviour
Diagnostic Imaging (Digital X-Ray, Ultrasound, Endoscopy) 
Surgery Services
Hip Replacement Surgery
Spinal Surgery
Soft Tissue Surgery
Oncology / Cancer
Laparoscopic / Keyhole Surgery
Sterilisation and Keyhole Spay / Castration
Dentistry
Juvenile Pubic Symphysiodesis
Orthopaedics
Westside Emergency Vet:
Westside Emergency Vet's 16-person team shares a building and collaborates with London Veterinary Specialists. Westside Emergency Vet guarantees premium quality treatment for your pet and peace of mind by sharing resources with London Veterinary Specialists and providing around-the-clock care.
Services:
Consultation
Hospitalisation
Facilities:
Emergency Treatment Area
Emergency Surgical Theatre
Intensive Care Unit (ICU)
16-slice CT scanner
Oxygen Therapy
Multiparameter Monitoring
Endoscopy
Digital Radiography
Pharmacy
In-house Laboratory
The Veterinary Emergency and Specialty Hospital:
The Veterinary Emergency and Specialty Hospital is Singapore's first specialty referral and emergency hospital, with a team of five highly educated veterinarians. By referral from a family veterinarian or through their 24/7 Emergency service, VES delivers specialized, skilled veterinary care for complex medical and surgical situations.
Address: 2-14 Rochdale Road Singapore 535817
Contact: +65 6581 7028
Website: https://www.veshospital.com.sg/
Services:
Anaesthesia & Pain Management
Cardiology
Dermatology
Diagnostic Imaging / CT Scan / MRI
ER & Critical Care
Internal Medicine
MRI / Neurology & Neurosurgery
Oncology – Cancer Management
Ophthalmology
Orthopedics Surgery
Soft Tissue & Vascular Surgery
Companion Animal Surgery:
Companion Animal Surgery was founded in 1989 by Dr. Shane Ryan, making it one of Singapore's oldest veterinary clinics. Companion Animal Surgery has developed from a single veterinary office to a full-service 24-hour clinic with nine veterinarians. Companion Animal Surgery takes pleasure in upholding high standards and providing excellent service.
Address: 12 Boon Teck Road Singapore 329586
Contact: +65 6355 7950
Website: http://www.comvet.com/
Services:
Sterilisation
Microchipping
After-hours Critical Care and Monitoring
Digital Radiography and Ultrasonography
Hematology and Biochemistry Blood Tests
Soft Tissue and Orthopedic Surgery
Oncological Surgery and Chemotherapy
Acupuncture and Herbal Medicine
Arthrex ACP Platelet Rich Plasma Treatment
Tick Fever, Heartworm, and Rabies Serology Tests
Mount pleasant veterinary centre after-clinic hours and emergency service (gelenggang):
Mount Pleasant Gelenggang opened its doors in 2008 with the goal of providing comprehensive diagnostic, medical, and surgical referral services. Senior veterinarians Dr. Anthony Goh and Dr. Dennis Choi lead a team of ten vets.
Both veterinarians have a lot of experience. Dr. Anthony Goh is one of Singapore's few veterinarians who can conduct echocardiography, while Dr. Dennis Choi is a member of the Singapore Veterinary Association's committee and the Asian Society of Small Animal Surgery's executive board.
Address: 2 Jln Gelenggang Singapore 578187
Contact: +65 6251 7666
Email: mpvc@mountpleasant.com.sg
Website: https://www.mountpleasant.com.sg/gelenggang/
Services:
General Consultation
Vaccination
General Health Screening
International Export Certification
Microchip Implantation
Ophthalmic Examination
Digital Radiography
Ultrasonography
Dental Scaling and Extraction
Sterilisation
Soft Tissue Surgery
Orthopaedic Surgery
AVA-approved Quarantine Facility
Hospitalisation
House Call Visit
There is no time to waste when it comes to emergencies. No more wasting time looking for clinics at the last minute when something unexpected happens to your pet, especially in the middle of the night, with our complete list of 24-hour vet clinics in Singapore.
---